Sigma Beauty
Sigma Spa® Express Brush Cleaning Glove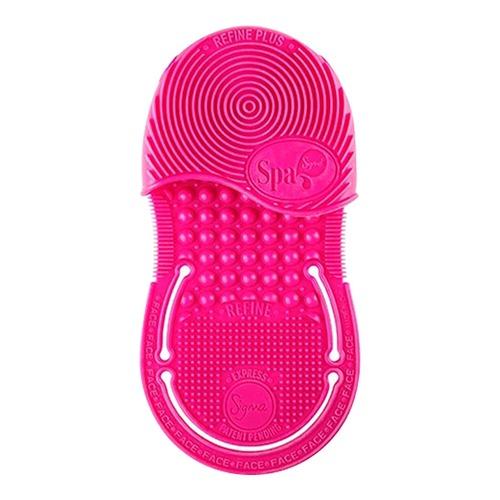 Sigma Spa® Express Brush Cleaning Glove
₱1,206.00
Free Delivery above ₱1,300.00
About

This compact cleanser has seven patented textures to wash and refine eye and face brushes.  It is built with a universal strap size, allowing any user to strap around the hand during vigorous cleaning. If you find it tough to clean your tools away from home, this product occupies minimal space for convenient storage and transporting. 

Benefits

Designed for left and right handed people 
Cleans brushes in quick manner
Non-bulky, convenient to carry around

Fit the mat in an up-right position in the sink.
Secure suction cups onto the sink.
After wetting your makeup brushes, add a small amount of cleaning solution and water to the mat.
Swirl brush on 'Wash' texture to clean the brush.
Place the brush under running water, sweeping it back and forth on the 'Rinse' texture to remove makeup residue and soap.
Swirl brush on the 'Refine' texture of the mat to enhance cleaning. 
Repeat rinsing and refining methods until your brush is fully cleaned.
Squeeze brush head with gentle hand to remove excess water. 
All of our products are 100% authentic
ratings & reviews 29 reviews
Lia
Effective
Makes the process of cleaning my brushes much easier. All the gunk washed off in just seconds. The only thing I don't like is that some bristles stray from its original form. Nothing major, though.
Jill
Easy washing but not a must-have
This product made washing brushing easier in that it 'scrubbed' the dirt out better, but it's not something I would not be able to survive without as rubbing the brush on your palm/across your fingers does the same thing (though that does take longer).
Ai jia
Essential tool for makeup brushes!
Where has this been all my life? I never knew I needed it till I bought it on a whim. A must have for anyone who has more than 3 brushes. It is so easy and fool-proof to use - simply swipe the brush across different zones (wash, rinse, refine etc). Takes just a couple of minutes to clean per brush and it really does a deep-cleanse job well (can see all the makeup being rinsed off),
Beatrice chow
Great for cleaning my brushes
This really helps to get the leftover product from the brushes! I would totally recommend this to people who uses brushes everyday. It is best to use this whenever you can so that you can clear out all those excess makeup from the center of the brushes. It also helped to clean one of my white brushes back to almost a pure white normal state.
H.
Hype
Bought into the hype and could have just saved my money and bought the alternative at the dollar store. It did do its job of helping me clean my brushes but it was nothing really remarkable except that it could be worn on your hand to help increase control and pressure. My hands still got all wet and dry so gloves are needed anyways when using this.
Monique symss
A life changer
This product is incredible. It is so easy to use. Just slip your hand in and let it do the magic. My brushes clean fantastically. A must have if you want to clean your brushes easily and effortlessly. 
Mengying
nice product
It is a nice product compare to real techniques similar one because this is so convenient and soft you can choose wherever you like to wash your brushes and clean so well. what is more this product easy to be washed too,just use water you can make it as clean as new but real technique  can't, because dirty things from brushes stay on its surface, although use soup to clean still dirty.
Kris
So Convenient
It was really hard to clean my brushes back then. I even have a hard time guessing if was all clean but with this it became so easy and cleanse it thoroughly ! I would totally recommend this. It is worth the money if you're a lazy yet meticulous person like me.
Tamara craiu
Clean
Cleans all my brushes perfectly no matter what kind of make up brush cleanser I use!! I also like how small it is and that my tiny baby hands can use it so easily. It also dries really fast even in Singapore where it's super super humid. 
Sharmaine
Fav Sigma Brush Cleaner
This innovative idea of cleansing make up brushes is so convenient! No more the hassle of using alcohol or multiple sponges or tissues paper to wipe the remnants of the make up on brushes. This all-in-one step cleanser and a soap is all you need to clean out your make up brushes all at the same time, Would defo recommend it to my friends!